Ever feel like you've gained twenty pounds after a meal? Wondering why your eating habits spawn a "food baby" sometimes?
Bloating is a common occurrence for many people. It certainly isn't pleasant, but if you experience it on a frequent basis, what can you do about it?
Here are 15 tips to help you reduce that uncomfortable bloating sensation and get the flat stomach you've always wanted:
Smaller Portions to Avoid Overeating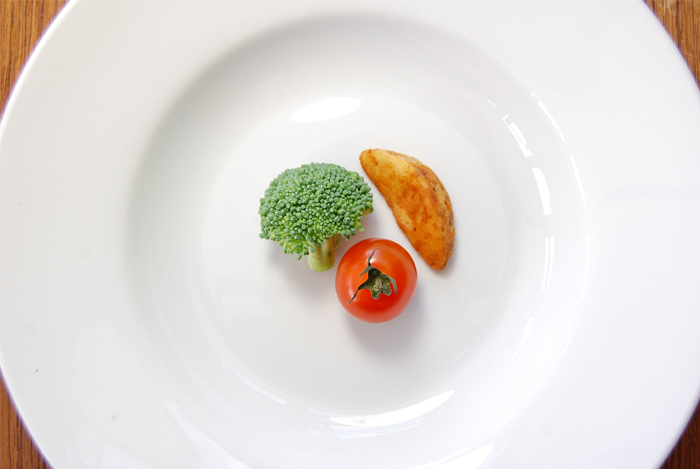 Feeling bloated and feeling stuffed from eating too much can often feel the same. Still, it's natural to feel uncomfortable after eating a large meal, so what can you do about it?
Eating less is a start, but you don't want to starve yourself. That's why it may be helpful to not only eat smaller meals, but to eat more frequently. If you go from three meals a day to four or five, but are still eating around the same amount, you'll easily feel better after each meal, simply because you aren't trying to digest too much at a time.
Personally, I've found it helpful not just for my stomach but for my energy levels as well to eat smaller meals more frequently. Give it a try – you may get more than one benefit out of the change.
Eliminate Carbonated Beverages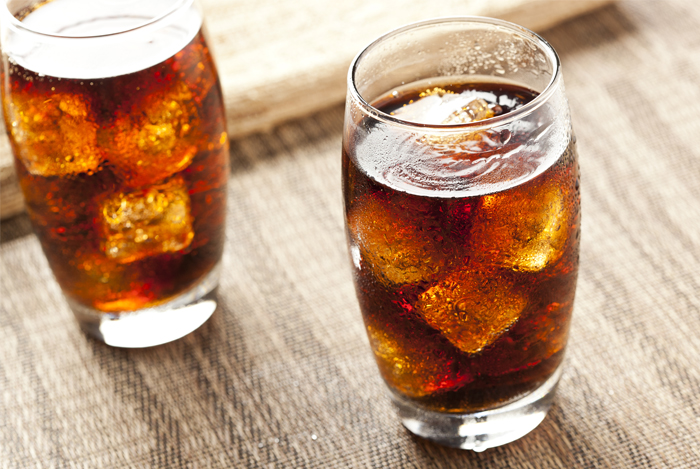 Sorry, soda lovers, but those heavily carbonated beverages might be a key cause of your bloatedness. They may be delicious, but you're also swallowing bubbles of carbon dioxide, and that extra air in your stomach can cause a serious bloat.
A major cause of bloating is gassiness. There are gases produced in the body, of course, but there are also gases you can swallow. Carbon dioxide is a major offender because of the prevalence of soda and other carbonated beverages (even carbonated water). If you're having trouble with bloatedness and gassiness, stop drinking soda and see what a difference it makes.
Soda also has a laundry list of negative health effects, such as undesirable weight gain, insulin resistance, and heart disease! Better to stay far away.
Be Careful How You Eat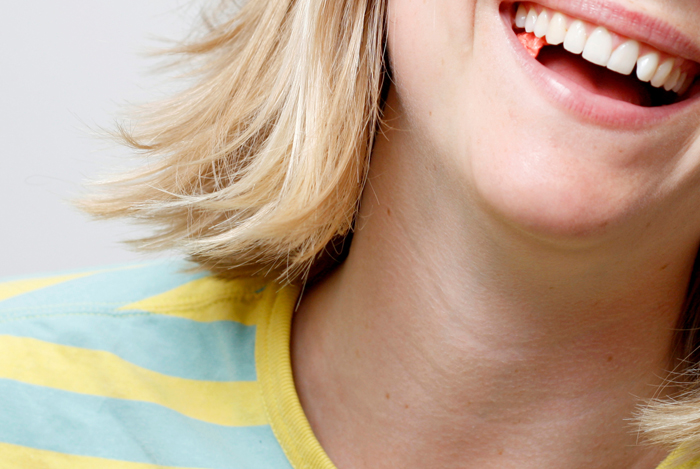 Carbonated beverages aren't the only source of swallowed air and gases. You can also swallow air in the normal process of eating and drinking.
If you eat while talking, eat in a rush, chew gum, drink with big gulps or through a straw, you may be swallowing air without even realizing it. Here are some tips:
Eat slowly: Chewing slowly with your mouth closed – and making sure to listen to your mother and not talk with food in your mouth – are great ways to reduce the amount of air you swallow.
Lose the straw: Either lose the straw on drinks, or make sure you don't breathe through your nose when drinking through a straw. The same goes for drinking without a straw: try not to multi-task by breathing and drinking at the same time.
Cut back on the gum chewing: Just like talking with food in your mouth, chewing gum is an easy way to swallow extra air. Try to cut back on the gum if you have issues with bloatedness.
Don't Work Out Right After Eating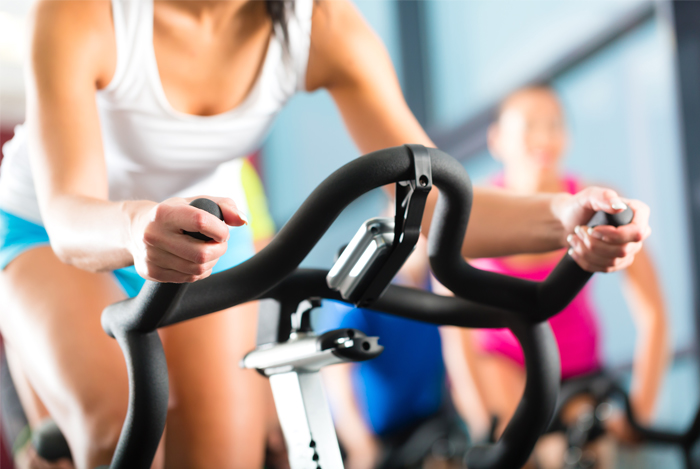 This goes along with the last point. Being very active right after eating can mess with the digestive process, leading to gassiness and discomfort.
Ever run right after a meal, and it left you feeling queasy? That's because your body is designed for resting or working, not both at the same time. Resting is for digestion – working is for physical activity.
When your body is trying to digest but you go into "work mode" with a run or workout, you're messing with the digestive process and killing two birds with one stone: making your stomach and bowels upset, and reducing your ability to work out effectively.
That's why I make sure to give myself enough extra time around my workout so that I know I can eat and digest properly beforehand. Don't shoot yourself in the foot. Give yourself an hour or two after eating before you work out.
Beware "Sugar-Free" on the Label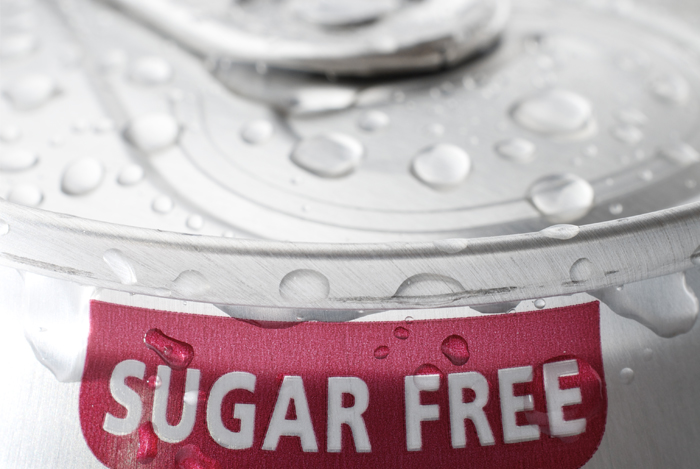 Although too much sugar can be bad for you, what companies use to replace sugar can sometimes be worse.
In place of sugar, companies will often use "sugar alcohols," and while they're technically considered safe, they can still cause digestive problems. Your large intestine contains a lot of bacteria helpful for digestion, but when these bacteria digest sugar alcohols, that produces gas – which we know leads to bloatedness.
The way sugar alcohols go about producing gas is through the effect they have on your digestive tract's bacteria. Limiting their effectiveness makes it harder for your digestive tract to push food through, leading not just to gas but to diarrhea as well.
Check the nutrition label on "sugar-free" foods, and look for sugar alcohols such as xylitol, mannitol, sorbitol, and erythritol. These are all known to cause digestive problems, so steer clear if you have trouble with gas and bloating.
Lighten Up on the Salt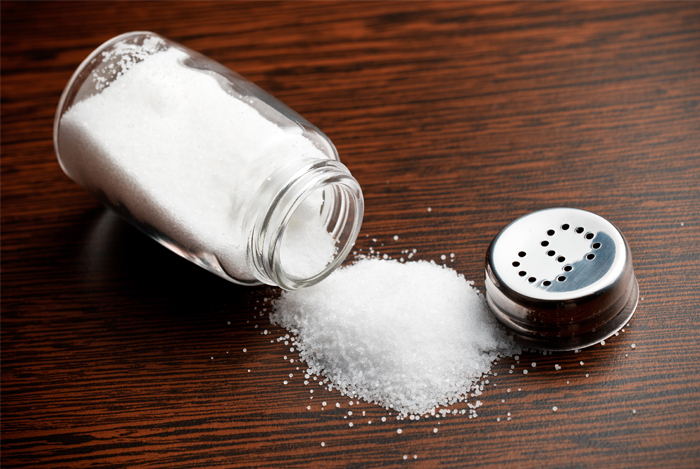 Sodium can contribute to feeling bloated, as it holds water easily and water retention is a factor in bloating.
Water is important for your body to function, as 50-75% of your body is made up of the stuff. But when excess water is retained in parts of your body like the blood vessels, it can affect blood pressure and make your whole body appear and feel bloated (primarily in the stomach, hands and feet, and face).
Cutting out table salt and high-sodium foods will reduce your chances of water retention. Foods high in sodium tend to be canned and frozen foods (sodium is a great preservative). Guidelines say to shoot for less than 2300 mg of sodium per day (and for some groups of people, less than 1500 mg/day).
If you cut back on frozen and canned foods (and ease up on pouring the salt), you'll find it's remarkably easy to hit those guidelines.
Cook Those Veggies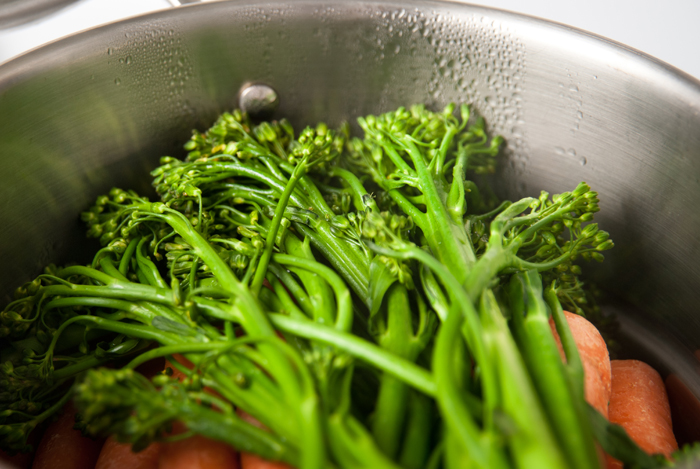 Vegetables are great for your health in so many different ways. However, veggies are high in insoluble fiber. These compounds help foods pass through your digestive system more easily, but are also difficult for your body to break down, leading to gas and bloating.
Such a conundrum! The solution is simple, though: cook your vegetables more often. Cooking helps soften the fiber content in vegetables, making it easier for you to digest them without the associated gas.
Cooking veggies gets a bad rap sometimes for removing nutrients that are heat-sensitive or water-soluble (as in, those that are absorbed by water). However, there are ways to cook your vegetables that don't remove those important nutrients: steaming and stir-frying.
If, for some reason, your only option is to boil veggies in water, make the most of it by using the leftover water in a soup or stew so you can get back those nutrients.
Eat More Fiber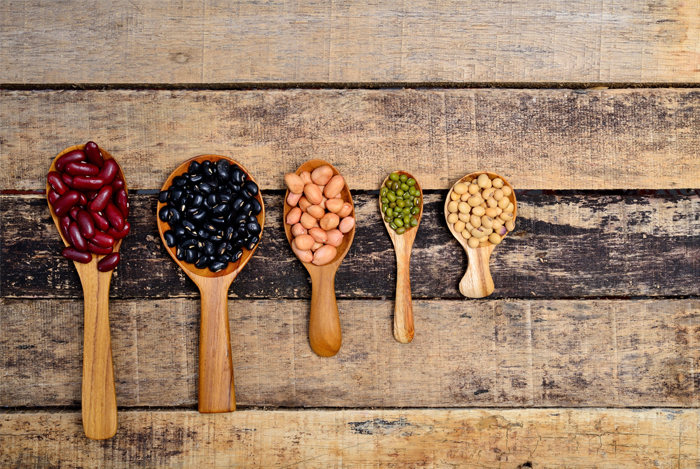 Bloating and gassiness can often be the result of constipation. It's a common digestive problem, and most recommendations say to eat more fiber to solve it, as fiber helps move food through your digestive system, relieving constipation.
Soluble fiber is the best bet, as it is the type of fiber that your body can absorb. It also retains water (in a good way), helping reduce and relieve diarrhea (another contributor to gassiness and discomfort).
There's a flipside to the "eat more fiber" recommendation, however…
Watch It with Fiber and Fats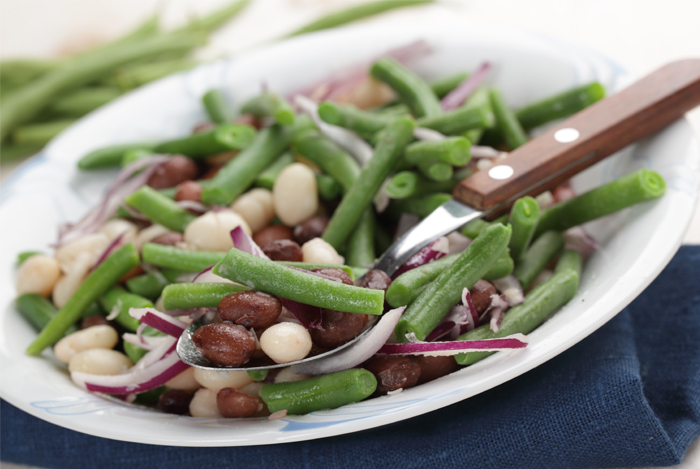 As I said earlier, you'll want to cook all or part your veggies due to their insoluble fiber content. But even beyond your vegetable consumption, you'll still want to watch the amount of high-fiber foods you eat if you struggle with bloatedness and gassiness.
Foods high in fat (even healthy fats) can also be a major contributor to bloating. They don't call beans "the musical fruit" for nothing. Beans, legumes, and even whole grains (not a fatty food, but something we haven't covered that can cause similar symptoms) can slow down digestion, which is great for helping you to feel satisfied from a meal.
Unfortunately, that can be a problem if you have bloating tendencies. Try cutting back on beans, whole grains, and other high-fat/high-fiber foods, such as peanut butter, red meat, cheese, nuts, and fried foods.
Rule Out Intolerances/Allergies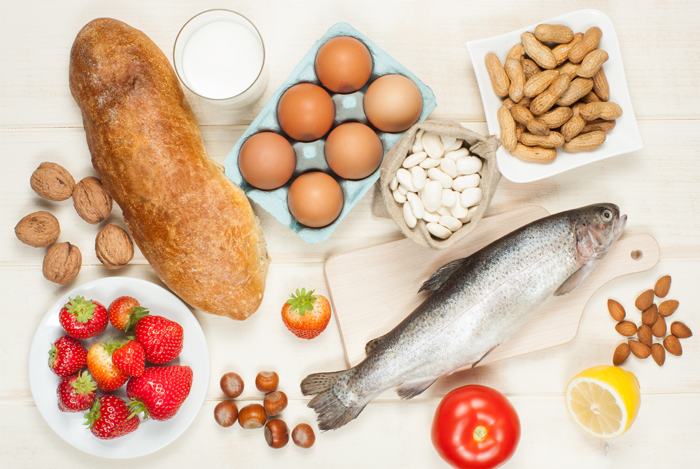 If your body has an intolerance or allergic reaction to a particular food, that could easily manifest as bloating and gassiness. Common food intolerances and allergies include dairy products (lactose), grains (gluten and other grain proteins), eggs, nuts, and seafood.
If you've been experiencing bloating and gassiness, try cutting one or more of the above food types out of your diet for a few weeks. If you see your symptoms lessen or disappear, it's probably a safe bet that you have an allergy or intolerance and should reduce (or completely remove) that food from your diet.
Don't fret about having to completely overhaul your diet, though, as there are often healthy alternatives to the food you're removing. You can substitute dairy milk with almond or soy milk if you have lactose intolerance, and there are lots of gluten-free breads, pastas, and cereals on the market if you have a gluten intolerance or allergy.
Sometimes, digestive health and comfort is as simple as changing a single type of food.
Find Out if You Have IBS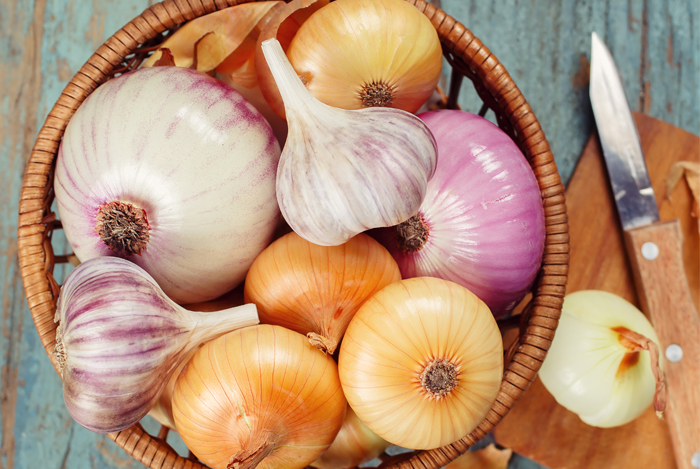 IBS is short for Irritable Bowel Syndrome and is considered to be the most common digestive disorder in the world, affecting approximately 14% of the entire population (the majority of whom go undiagnosed).
Bloating, diarrhea, abdominal pain, discomfort, and constipation are all common symptoms, and 60% of people with IBS report bloating as the worst of their symptoms. Yikes! On top of all of that, there is no known cause for IBS.
Thankfully, there are ways to treat IBS, and they don't involve heavy medications or medical procedures. As you might have guessed from the rest of this list, the best treatment for IBS is a dietary change. There's one word (or, rather, acronym) you need to keep in mind: FODMAPs.
What the heck are FODMAPs, you ask? FODMAP stands for Fermentable, Oligo, Di-, Mono-saccharides, and Polyols. This covers compounds referred to as "indigestible carbohydrates," which can make symptoms much worse for those with IBS. If you have IBS, you'll want to avoid what are called high-FODMAP foods.
Here are some examples (with worst offenders in bold text):
Garlic
Cream cheese
Dairy milk
Orange juice
Most teas
Egg noodles
Sausages
Onions
Apples
Watermelon
Soy beans
The full list of high-FODMAP foods is extensive, so if you find you do have IBS, make sure to do your research before grocery shopping. A diet to reduce high-FODMAP foods can be challenging, but worth the effort if you suffer from IBS.
Supplement Your Digestive System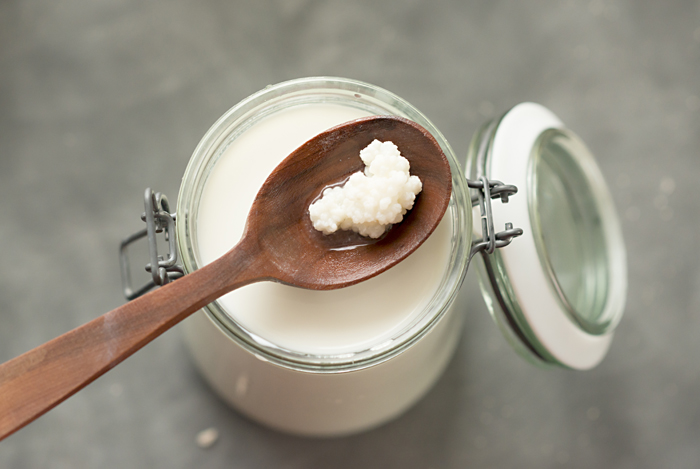 Sometimes dietary changes don't cut it or are too difficult to follow. In that case, it's worth looking into some over-the-counter supplements to improve your digestion in order to lessen gassiness and bloating. There are two types to look for: digestive enzymes and probiotic supplements.
Digestive enzyme supplements help break down hard to digest foods (including those high-FODMAP foods above). There are several kinds of enzyme supplements you can get, such as lactase (helps digest lactose), amylase (helps digest starches), and protease (for digesting proteins).
There are multi-enzyme supplements, as well as their single counterparts. Figure out what kinds of foods you're having trouble digesting, and consider supplementing with the specific digestive enzymes geared towards those troublemakers.
Probiotic supplements aid the natural bacteria in your digestive tract. If those bacteria aren't operating properly or if you have too few good digestive bacteria, food won't be digested properly and you'll find things get particularly gassy.
Probiotic supplements help with that, allowing your natural bacteria to function better and replacing lost bacteria. All of this works together to help move food through your digestive tract properly, reducing gassiness.
Whether or not probiotics help with bloating is up in the air (some research says it does, other says it doesn't), but all current research has probiotics pinned as a great gas reducer. If you're struggling with gas, probiotics may be your cure.
Use a Food Journal to Pinpoint Problems
Even with all of the different tips above as to which foods to avoid, which foods to eat, and why, sometimes, you need to take matters into your own hands. Everyone's body is different, so what causes problems for one person may not cause bloating or gassiness for you.
At the same time, there plenty of different potential sources of your bloating woes. A food journal is a quick way to get to the bottom of what your specific problems are, as well as show you how to change your diet accordingly.
You don't have to count calories or weigh your food for this. Just write down what food you ate each meal and a rough estimate of how much. Take note of any symptoms you have and the times at which you experience them, and see if you can tie them to specific foods you ate.
You may notice that some of the common "problem foods" listed above really are a problem for you, or that only some of them are. If you don't have to massively overhaul your diet to get rid of bloating and gassiness, why should you? Use a journal to get to the heart of your individual challenges, and then make changes accordingly.
Reduce Stress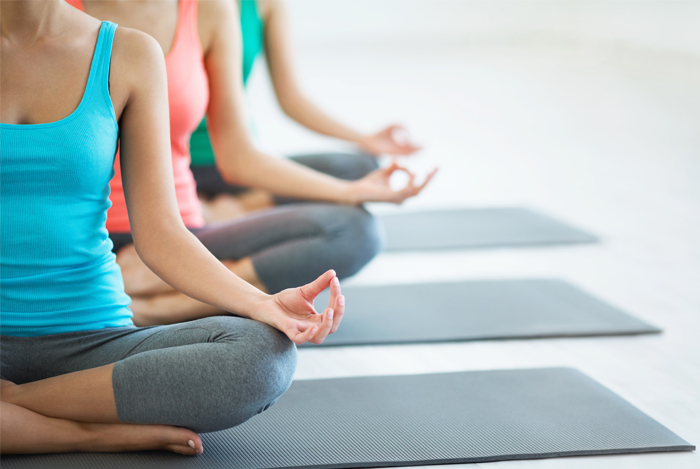 Stress hormones can throw everything in your body out of whack, sometimes leading to diarrhea and gas. While this likely isn't the sole reason for your bloating struggles, it may be a contributing factor that's worth addressing.
If you're feeling anxious, nervous, or worried, take some time to calm down. Take a walk to clear your head, listen to your favorite music, or watch a movie. Then, come back to whatever problem was stressing you out with a calmer mind in order to move forward.
Reducing stress has benefits beyond reducing gassiness, as I'm sure you know already. Make an effort to find ways to stay calm and clear-minded in stressful situations, and you'll help more than just your bowels.
See a Doctor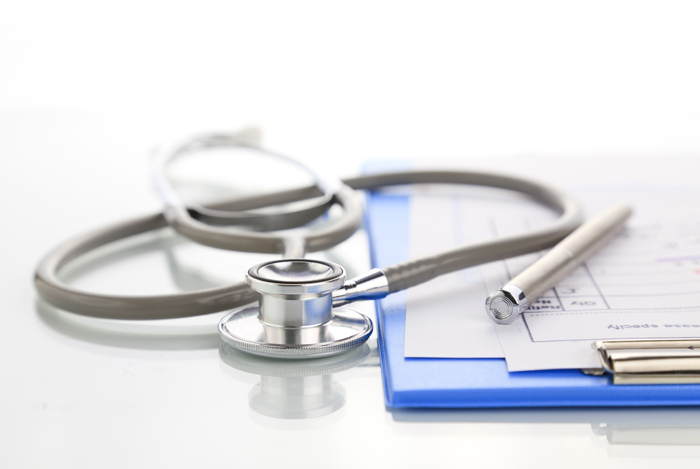 When it comes to nutrition challenges, self-diagnosis may be sufficient, as there are plenty of ways to find the causes of your bloating and gas troubles in order to make the necessary changes in your diet and lifestyle to eliminate them. However, if your problems don't seem to go away, it's always worthwhile to see a doctor.
If your symptoms are severe or if dietary changes don't seem to fix anything, you may be dealing with a serious and/or chronic condition that goes beyond lifestyle choices. Bearing in mind that diagnosing digestive problems is not an exact science (remember that the majority of IBS cases are undiagnosed!), it can be very helpful to talk to an expert.
While most problems can be solved just by making adjustments in your diet and lifestyle, don't hesitate to see your doctor if your symptoms just won't go away.
Do you struggle with bloating and gassiness? Let me know in the comments below if any of these tips helped you!